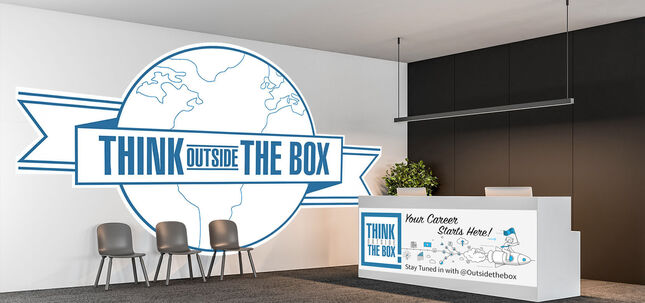 Durable Custom Car, Window, Floor, and Wall Decals
Custom decals are one of the most versatile ways to raise awareness for your business. With personalized decals, you can turn storefronts, windows, walls, cars, and even the floor to an extension of your brand. Use these to advertise new products and promotions or to remind customers to adhere to social distancing guidelines. These are perfect for personal use as well. You can print custom decals to add a personalized touch for your office or living room, or order a removable bumper sticker that displays an advocacy dear to your heart.
eSigns offers high-quality materials at a competitive price. We use UV-cured ink in our printing process which gives a vivid, full-color finish that resists fading. Our custom decal materials are all weatherproof and should last for years with the proper care and maintenance. Both statically-charged film and magnetic materials we use are removable, repositionable, and leaves no residue.
What's the Right Decal for you?
Custom Wall Decals – Decorate dreary walls at a discount. Custom wall decals lets you get creative and inject creative juices on walls, whether at the office or even at home. One of the best uses for wall decals is in the nursery or kid's room. These are easy to apply and remove and leave no residue.
Bumper Magnets – Add a personalized accent to your auto without the mess. Bumper magnets let you make a statement without ruining your paintjob. Choose from two sizes which should fit most vehicles.
Adhesive Decal Signs – Add an unmistakable pop of color with the use of adhesive decals. You can contour-cut these decals to create perfect custom shapes for your brand logo. Perfect to use with branding on machinery, electronics, and personal items.
Floor Graphics & Stickers – Advertise from a different perspective. Floor graphics can be creatively used to direct traffic to your business. They are also perfect reminders for social distancing guidelines.
Window Clings – Window clings let you maximize your store's glass doors and windows. You can add announcements, store hours, menus, and Wi-Fi availability so that customers are aware even before they step inside.
Car, Van, and Truck Magnets – Automotive magnets lets you take your brand on the road. You can print your logo, business name, and contact information on a magnet and place it on car doors and tailgates. You can increase visibility and name recall wherever you go.
Frequently Asked Questions
What are the different material options you offer for custom decals?
For magnetic signs, we use a 30 mil. magnetic material. This is durable and sticks strongly on flat magnetic surfaces without damaging the vehicle's paintjob. For the decals and clings, we use different types of PVC film. They are resistant to tears, moisture, and UV exposure.
Is there a minimum order for custom decals?
No, there is none. You can order as many decals as you like. However, we recommend ordering in larger quantities to save on both unit and shipping costs.
What decals are windproof?
Our magnetic signs are resistant to strong wind gusts as well as exposure to other outdoor elements. As long as it's stuck on a flat surface, it won't be blown away by the wind. The adhesive decal signs and floor graphics are also weatherproof.
Do you offer free shipping for custom decals?
Yes, we do! All eSigns orders $75 or more qualify for free Super Saver shipping. If you need your orders quickly, overnight and expedited shipping options are also available.
What is the Goof Proof Guarantee?
The Banner Baron sees to it that you're 100% satisfied with your eSigns order. If something's amiss, we'll reprint the order immediately, no matter who goofed. Please inspect your order as soon as it arrives and notify us within 24 hours if it is not exactly as specified. If you find something that is not to your liking, we will gladly reprint your item. It's that simple. Just contact us at cs@esigns.com or 800-494-5850, and we'll respond right away.
---
Don't see what you're looking for? Try one of the categories below: