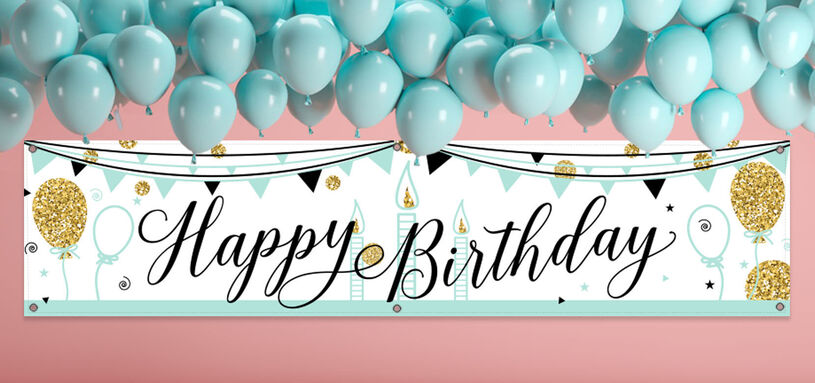 Reviews

Highly recommend
December 15, 2022
by Alissa Bradfield
( PA )
Stop shopping, this is the place to do business with.
September 8, 2022
by Sean
( NY )
Great products
September 3, 2022
by Latrice
( MS )
2 Thumbs Up
November 23, 2020
by Kate
( KY )
Quality Indoor Banners for Every Occasion, For Any Budget
Vinyl banners are incredibly versatile and can be used for various purposes and occasions. However, some situations call for specialized materials. Our indoor banners lessen the glare from harsh indoor lighting. We use 13 oz. indoor glare-proof vinyl that ensures your sign always looks its best without any hot spots. Whether you're promoting a newly opened store, advertising new opening hours in your retail space, or hosting an event, indoor banners are the perfect way to promote your message and invite people to your event or location.
Our glare-proof indoor banners are available with a single-sided print with a matte finish. Colors are vibrant and give life to your creative designs. Our vinyl banners can last up to five years with minimal care and maintenance. Each banner from eSigns come with nickel grommets and heat welded hemming, free of charge. Every order worth $75 and above is eligible for free Super Saver shipping.
By the way, your order is covered by the Good Proof Guarantee – which means that if ever you're not satisfied with the quality of your banner, just let us know and we'll fix it. That's our promise of customer satisfaction and we'll make sure you get it.
What are you waiting for? Print with eSigns today.
Popular Indoor Banner Sizes
2' x 4' is perfect for smaller areas. It still provides a lot of visual impact even if displayed in a small space. This size is popular for portable signage inside retail stalls. It can also be used to highlight specific products or promotions inside a store.
3' x 6' is the gold standard for indoor banners. It's the most popular banner size we offer due to the fact that it fits perfectly in most situations. You can place it in front of a standard table, behind the counter, or inside the living room.
4' x 8' are massive, especially in an indoor setting. It's eye-catching and almost impossible to miss, making it a great way to make an announcement. You'll typically find this banner size at big events such as concerts, tradeshows, and conferences.
Order Your Custom Indoor Banners in 3 Easy Steps!
Choose the size you need for the space you have in mind.
Upload your artwork or use our online design tool to customize your indoor banner.
Once your design is ready , you will be directed to your cart. Here you can set your order quantity and see your order's estimated total price.
Ordering more than one indoor banner? eSigns offers Quantity Discounts! Enjoy big savings when you order in bulk. You can view the different discounts, as well as the turnaround time for your order below the design upload button.
Frequently Asked Questions
How can I install my indoor banners?
The grommets on your indoor banners make hanging easy. You can install them using rope, hooks, zip ties, or nails.
Do your banners come with grommets?
Yes, they do. Our indoor banners come with nickel grommets in all four corners. For larger banners, we can add grommets spaced at 19" to 36" apart, at no extra cost.
Are indoor banners printed on only one side?
Yes. Our custom indoor banners can only be printed on the front.
Don't see what you're looking for?
Try one of the categories below: