Vinyl Decals
Custom vinyl decals for branding, marketing, and even personal use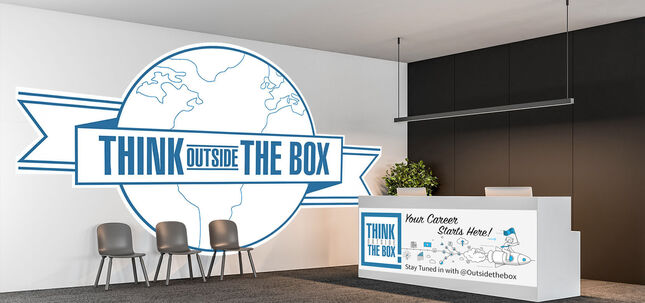 Choosing Your Vinyl Decals
eSigns is your one stop shop for vinyl decals. Whether you need to decorate your child's room, add social distancing reminders outside your restaurant, or simply print one to stick on your coffee cup, eSigns is here to give you the best value possible. We offer professionally-printed custom decals with no minimum order quantities, giving you the flexibility to order only what's needed.
A wide range of custom vinyl decals are available to cater to any of your needs. We have removable PVC film material that's perfect for seasonal offers and special menus, permanent decals for decorating personal items such as laptops and tumblers, and even non-slip textured floor decals. Each of our custom vinyl decals can be contour cut to give your design a unique, unmistakable, one-of-a-kind look. Choose one from the following options:
UV-cured ink that excels even with outdoor use
Available in a wide variety of sizes
Get a unique look with contour cutting
Perfect for social distancing guides
Textured surface to eliminate slipping
Easy to install and removes in one piece
Ideal for decorating interiors
Made with durable 6 mil. PVC film
Installs in seconds
Gloss finish 3.5 mil low tack adhesive vinyl
Print any shape you want with contour cutting
Weather and rain resistant
7 mil statically charged PVC film material
Add custom contour cut for a unique look
Remove and reapply in seconds
Mechanically-perforated for one-way visibility
Easy to apply, remove, and reinstall
Printed with UV-cured ink to minimize fading
How to Install Vinyl Decals.
There are two ways to install vinyl decals: The wet method, and the dry method.
The Wet Method:
This method is easier especially for beginners since when the surface and decal is still wet, you can still move it around until you're happy with the placement. This method of application is usually sued with vinyl window decals and clings.
To start off, thoroughly clean the surface you'll be sticking the decal to.
Create a mixture of liquid soap and water and put it inside a spray bottle.
Remove the paper backing and spray the decal surface.
Carefully stick the vinyl decal on the surface. Adjust as needed.
Use a squeegee to remove air pockets and excess moisture.
The Dry Method:
Applying custom decals dry is the usual method of installing.
Clean the surface you will use with soap and water. Use a clean cloth to pat dry.
Position the vinyl decal. Ensure that it is properly aligned on both sides.
Remove the liner from one of the top corners and carefully stick the decal. Apply gentle pressure.
Using your hand or a squeegee as a guide, slowly peel away more of the liner and apply gentle pressure. Continue until the whole decal is applied.
Starting from the center, use a squeegee to smooth out air bubbles that may have formed.
Care Instructions
Vinyl decals are weatherproof and should last for years. However, routine care and maintenance ensures that your decal will always look its best.
Every week, wipe the vinyl decal surface with a clean, damp cloth to remove dust and dirt.
If you notice that grime or mold has started to build up, immediately remove the decal and wash with mild soap and warm water. Set aside to dry. Do the same for the surface it was stuck on.
Once dry, reapply the vinyl decal using the steps outlined above.
Vinyl Decals Size Guide
Unsure about what size you need for vinyl decals? It will depend on how large the surface is but when in doubt, it's best to measure. Below is a rough guide on which items work best with particular decal sizes.
2" - 3" Decals – These are perfect for small objects, such as on coffee cups and mugs, as well as the back of most smartphones and gadgets.
3" - 4" Decals – Ideal for drink tumblers and on laptop corners. This is also a good size for free Wi-Fi decals on the door of small cafes.
4" - 5" Decals – Best for larger electronics such as tablets and laptops. Also works well with notebook covers.
5" - 6" Decals – These work well with car bumpers and tailgates as well as small social distancing reminders.
6" - 11" Decals – These larger decals are perfect for car windows and door signage for pubs and bars.