Custom Car Magnets Help Advertising Travel Further
Take your message on the road.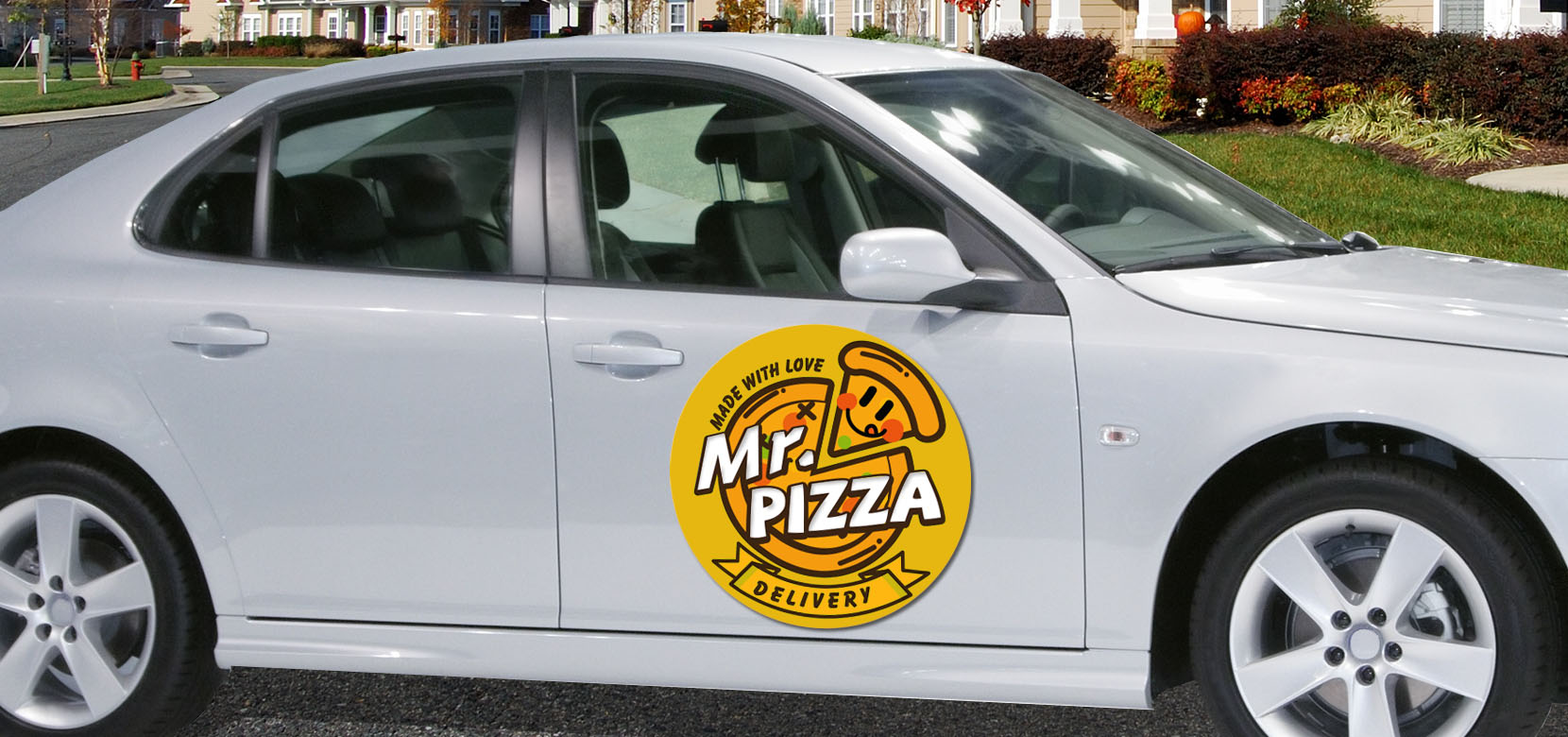 Grab Attention With Personalized Car Magnets
Advertise on the Road – Car magnets are an affordable way to turn the road into your marketing space. Imagine getting your message in front of dozens, if not hundreds, of people every day. The possibilities are endless with custom magnetic signs.
Full Color With UV Protection – Car magnets from eSigns are printed in full color to clearly display your company logos, the services you offer, and where potential clients can contact you. The UV coating also provides an additional barrier of protection for your car magnets. Even if these signs are constantly exposed to the rigors of the road – rain, snow, harsh sunlight, dirt and grime – you can count on them to always last long and look good as new.
Easy, Versatile Applications – Any personal or fleet vehicle can quickly and easily be transformed into a mobile billboard in seconds with car door magnets. Simply apply the magnet to a clean, smooth surface.
The Right Size for Any Type of Car – We have magnets for cars of all shapes and sizes. The selection ranges from 6" x 12" to 12" x 24".
---
Specs for Our Magnetic Car Signs:
Use

Cars, Temporary

Material

30 mil Magnetic Material

Orientation

Landscape

Printing

Full Color Digital UV

Finishing

Rounded Corners

Ease of Installation

Easy - Apply Directly to a Clean, Smooth, Metal Surface (not for use on aluminum or other non-ferrous metals)

Care & Use

Shipping

Free

Templates
---
Order Your Custom Car Magnet in 3 Easy Steps!
Choose the size you need for the space you have in mind.
Upload your artwork or use our online design tool to customize your sign.
Once the design is uploaded or done, you will be directed to your cart. Here you can set your order quantity and see your order's estimated total price.
Ordering more than one car magnet? eSigns offers Quantity Discounts! Get significant savings when you order in bulk. You can view the different discounts, as well as the turnaround time for your order below the design upload button.
Affordable Custom Magnetic Car Signs
Custom vehicle magnets through eSigns are an affordable signage solution for any business. With our quantity discounts on multiple orders, you can save more when you order signs for all your employees or car fleet.
Creating your own, unique design can be done in three ways:
Upload a design that's ready to print.
Select a template design to customize.
Start with a blank magnet and use the design tool to create a 100% custom design.
Our free design templates offer a fast and easy way to get started. We have templates for every industry. Whether you want to advertise your real estate business, your landscaping services, or your restaurant's food delivery, we have a ready-made design to help you get started. Pick one from our wide range of customizable artwork perfect for the road:
Boost Any Business With Car Magnets
Events announcements – Have a big event happening in town such as a trade fair or a concert? Make sure everyone gets to see your event details by advertising on cars.
Holiday greetings – Magnetic signs are the perfect way to add festive cheer to your cars. Seasonal accents can be removed and reapplied as the seasons change, making your advertising always on point.
Campaigns and fundraisers – Amplify your advocacy while you're on the road. Using car displays lets you magnify your message and widen your reach, whether it's for a political campaign, a charity fundraiser, or an environmental initiative.
General branding use – Take advantage of the magnet's versatility. Use generic designs that you can utilize for numerous uses. Use it on your personal car or even the delivery van.
---
Car Magnet Care Instructions
While our car magnets are extremely durable, proper care is still needed in order to maximize their potential. Maintenance is quick and easy and will prolong your sign's life by years. Here are a couple of tips to keep in mind to keep your magnets in tiptop shape:
Debris can accumulate in the back of the car magnet. Make it a habit to remove the magnet once a week and clean it with the use of a damp cloth and mild soap. Clean the metal surface as well. Let both the magnet and car surface dry before sticking the magnet sign back on.
For vehicles with new paint jobs or a fresh layer of clear or base coat, we recommend removing and cleaning the car magnet on a daily basis to avoid any damage while the paint is still curing.
Remove the magnetic sign in extreme weather conditions. If it gets exposed to a storm or a blizzard, remove, clean, and dry it first before sticking it on again.
---
Frequently Asked Questions
Are custom car magnets durable?
Yes. They are weatherproof and, with the proper care and maintenance, can last up to three years.

Will the magnets damage my vehicle?
No, they won't. These signs use a removable magnetic material that has a strong adhesion to metallic surfaces. It won't leave any adhesive residue or damage the paintjob.

Can I upload my own design file?
Yes, you can. We accept PDF, PSD, TIF, EPS, AI, and JPG file formats. For designs with transparent portions, please do not save your design as JPG. JPG files convert transparencies to your image software's default background color (usually white), and the sign will be printed with that color.

---