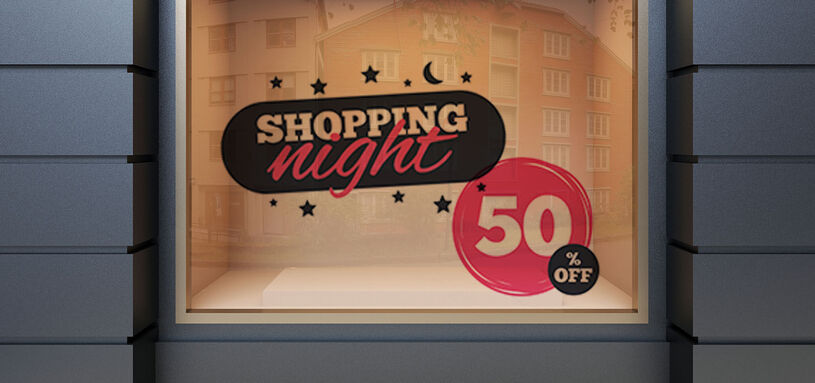 Effortless Application With Window Clings
Add branding effortlessly in seconds. Window clings let you advertise, make announcements, and raise awareness with your windows as the canvas. Window clings are completely removable and reusable. They do not leave any residue or become tacky once removed. Make your branding dynamic and change up your window signs as often as you wish with window clings.
Order Your Custom Window Cling in 3 Easy Steps!
Choose the size you need for the space you have in mind.
Upload your artwork or use our online design tool to customize your window cling.
Once the design is uploaded, you will be redirected to your cart. Here, you can set your order quantity and see your order's estimated total price.
Ordering more than one window cling? eSigns offers Quantity Discounts! The more you order, the more you save. You can view the different discounts, as well as the turnaround time for your order below the design upload button.
Custom Window Clings with Die Cutting
Adding a contour-cut effect to your window clings? The process is easy! Once you're set and ready with the final design of your window cling, remember to indicate where the contour-cut line in your artwork will be.
Upon checkout, place in the notes where your cut-line is within your window cling, so we can be sure to contour your design according to your specifications.
We provide one cut per cling and cannot cut out individual letters, but can cut around words or phrases, maintaining a border of at least 0.125" around contoured text.
An example of how text can be contoured is shown below.
Designing a cling that has the appearance of cut-out text with a white background can be accomplished by selecting our clear cling window product.
Simply include the transparency in your online design and be sure to save your design's custom artwork using one of the preferred file types that allow for a clear transparent background.
File types that will retain transparent backgrounds include: (AI, PDF, EPS, TIF, & PSD) files.
Please do not attempt to submit your files in JPG as this format cannot be saved as a transparent image.
Reusable Window Clings Perfect for Any Budget
Because of a window cling's ability to be reused multiple times, they are the perfect cost-effective signage choice for retail businesses like clothing boutiques, convenience stores, and even fast-food restaurants to use their valuable window space as an advertising platform for special promotions, seasonal sales, and even daily specials.
Installing Your Window Clings
Measure the area to make sure the window cling fits.
Thoroughly clean the window surface you intend to stick the cling on.
Dry-fit the window cling on the surface. Mark the corners with a washable marker or small pieces of masking tape.
Using a spray bottle with a drop or two of detergent, mist the window surface.
Remove the window cling's protective backing. Align the cling on the corner marks.
Use a squeegee to slowly stick the window cling on the surface. Start from the center if possible.
You can remove and reapply to remove air bubbles or use the squeegee to push them out.
How to Properly Remove Window Clings
Since the cling only uses static electricity to adhere to the window's surface, removing it is easy.
Start from one corner. Use a razor blade to try and peel the corner. Do this carefully if you plan on reusing the window cling.
If you still have the protective backing that the cling came with, stick it on there for storage.
If you already threw away the protective sheet, you can stick the window cling on a plastic surface, like inside or the lid of a storage box, for safekeeping.
As long as the window clings are clean and free from dirt and grime, they can be reused.
Dazzle With Decorative Window Clings
There's more to window clings than just food menus and sale signs! Window clings provide a lot of utility as decorative materials.
Seasonal decorations – The holidays are right around the corner! Window clings can add a festive accent to the windows of your store, office, or home. Once the season or holiday ends, you can quickly remove the cling and store it until next year.
Stained glass clings – Stained glass windows look great, but can be costly. You can have the same effect at a fraction of the cost with the use of window clings. You can plan and see firsthand how a stained glass effect will look in your space before committing to having it done permanently.
Privacy window clings – Having clear windows where everyone can see you can sometimes be a drag. You can use an opaque window cling to ensure your privacy when you need it. Remove and reapply as you see fit.
Care Instructions
One of the biggest selling points of window clings is its reusability. Having the ability to remove and reposition the cling to your heart's content makes your space dynamic, and saves you on printing costs as well. Your window cling's usable life, however, hinges on proper maintenance and cleaning. Follow these tips to ensure that your window cling remains in tip-top shape for years to come:
Clean the surface of the window clings using a duster or a dry microfiber cloth weekly.
If you need to clean the window, or if you notice moisture, condensation, or mold forming on the window cling, peel it off.
Prepare your cleaning area. Fill a sink or a small basin with lukewarm, soapy water. Place the window cling in the water.
Wash both sides of the window cling. Pat dry using a microfiber cloth.
Wash the window surface where the cling will be applied on.
Once the window cling and the surface is clean and dry, slowly reattach, taking care to avoid air bubbles from forming.
---
Don't see what you're looking for?