How To Use Pop Up Banner Displays
In this article, we focus on how to use pop-up banners to raise awareness and boost brand recall.
Pop-up banners are among the most reliable marketing materials available to businesses. It's durable, affordable, and portable. You can leave it on display for weeks at a time or set it up and put it away at the end of the day. It's that versatile.
In this article, we delve into two popular questions with regard to pop-up displays. We focus on how to maximize its use, and how you can design one for optimum results.
Where to Use Pop-Up Banners
Pop-up banner displays can be used anywhere! Here are a few common uses for these banners you can take advantage of:
Trade Shows – Pop-up banners shine brightest in trade shows. They draw attention to your booth even if you have a small exhibit space. These banners are easy to set up before the event starts, and can be taken down in minutes after the event.
Community Banks – You can advertise special offers such as promotional credit cards, home or house loans, or investment funds. Pop-up displays instantly grab attention in a small, confined space filled with your target audience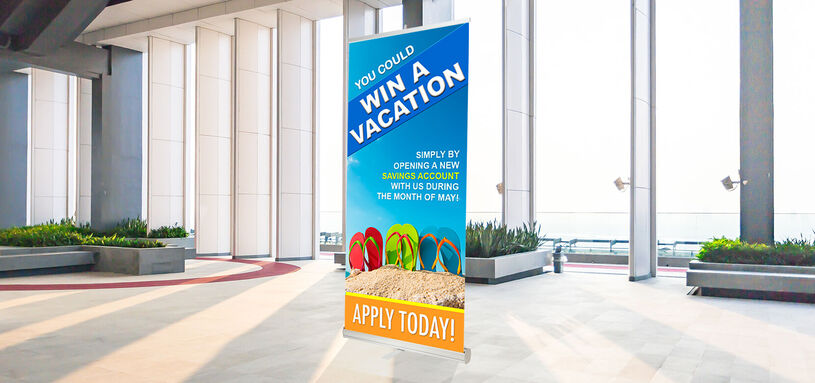 In Offices – Banner displays can be used inside offices to display new products to promote or new metrics to hit. A visible sign in the middle of the floor serves as a constant reminder to employees of their goals and targets.
Speaking Engagements & Seminars – Promote the keynote speaker at your upcoming event. You can display pop-up signs to build hype around the occasion before and during the event. Continuously displaying the speaker or event information may also help entice passersby to join and listen.
Outdoors – You can also use pop-up displays to promote an event outdoors. Take note to get signs and banners for outdoor use to ensure that your displays don't get blown away by the wind.
Local Markets – Advertise the catch of the day or your new harvest. Pop-up banners are affordable and easy to replace so you can print new signs promoting seasonal products.
In-Store Promotions – Advertise sales and special deals with pop-up displays. The eyes of customers are trained to immediately hone in on in-store promotions. Take advantage of this with banner displays.
Sporting Events – Show support for your team or promote an upcoming sports match. Since pop-up displays are portable and easy to set up, you can bring these to other venues. These can also be used for directional signs for visiting teams.
How to Design Pop-Up Banners
Ready to create your own pop-up banner? We have a few tips to keep in mind in order to maximize its effectivity:
Make Right Use of Text and Spacing – The way you place your copy can make or break your banner design. Ensure that the words are legible and easy to understand. Look at the mockup from different angles to see if something may look off when viewed a certain way.
Don't Cram Too Much Info – There's a temptation to add as much information as possible on pop-up banners. Resist this. Focus on the essentials such as your brand name and contact information. A great design is all you'll need.
Don't Over Design – Don't go overboard with the design elements. Focus on simplicity and timelessness. When your design looks cluttered and busy, viewers won't bother to read your message or even try to digest it. Keep it as simple as possible.
Pair With Other Advertising Products – Complement your advertising efforts with other materials, such as yard signs, decals, and posters. Varying your advertising methods keeps your business fresh in the minds of viewers.
Put It Where People Will See It – Signs are used to increase visibility, but only when they're placed in a good spot. Putting up a banner in the middle of nowhere will do nothing. Place your pop-up displays in high-traffic areas to maximize their impact.
Set up Your Signs For Success
Pop-up banners are as versatile as they come. However, a key factor in its success is preparation and advanced planning. The design has to be good from the get-go. Likewise, you have to choose the most apt sign type for your purposes. You can design, order, and print pop-up banners from eSigns. Set-up the success of your signs right from the start.
---
Don't see what you're looking for?