Reviews

Good yard signs at a decent price.
November 13, 2023
by Pam S
eSigns satisfies better than a snickers bar!
July 28, 2023
by M Jesse Schubert
( WI )
GREAT Company
July 26, 2023
by Tim Morris
( GA )
June 27, 2023
by Summer Camp director
( NJ )
Awesome and good service!!!
June 12, 2023
by Eric Williams
( NY )
Durable Custom Yard Signage Made for Long-lasting Outdoor Displays
Waterproof, weatherproof, and built for outdoor use
Front or back yard sign printing in full color with UV and weather-resistant inks
Fade-resistant, reusable, and cost-effective
Custom Options for Your Yard Signs
We make customizing your yard signs or lawn signs as easy as 1, 2, 3. We offer many specs and options that you can choose from. When you're ready, select the combination from our dropdown menu around size, shape, materials, colors, and printing side (1 Sided or 2 Sided), as well as grommet options.
Sizes
Shapes
Print Colors
Materials
What are Yard Signs?
Yard signs are easy-to-use and affordable outdoor advertising tools. They are made of 4 mm coroplast, which is a lightweight but durable material. Yard signs are usually used on lawns, along roads, or on sand. They are one of the most versatile tools in a marketer's arsenal – use these for real estate signs, campaign materials, sales announcements, event banners, or directional signage.
Read more
Create Your Yard Signs Using Our Free Design Templates
Get more out of your time and budget when you design your Yard Sign with any of our free templates. Choose from hundreds of designs that you can make entirely your own using our design tool.
Must-Have Accessories for Your Yard Signs
Sign Stakes
Choose from our three types of low-cost but sturdy sign stakes that best fit your outdoor display needs.
Sign Frames
Designed for the long-term, our selection of plastic and metal frames keep yard signs stable in any weather condition.
More Signage Solutions
Browse affordable sign solutions that are just as durable as our coroplast line. Popular with industrial service businesses, real estate firms, and contractors.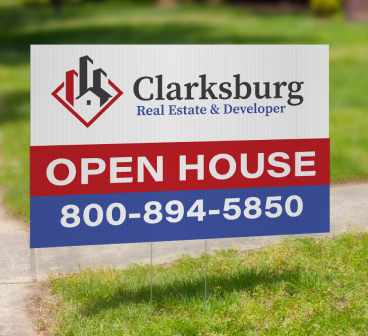 Real Estate Yard Signs
Waterproof, weatherproof, outdoor use
Fade-resistant, reusable, and cost-effective
Ideal for neighborhood announcements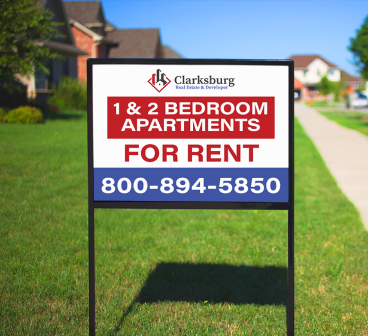 3mm Aluminum Composite Panels
2 sheets of 0.0008 aluminum
Solid polyethylene core for extra durability
Long-lasting for outdoor use
PVC Signs
Also called Sintra, Komatex, or Celltex
Lightweight, weatherproof, non-yellowing
For indoor & outdoor use
Goof Proof Guarantee
You deserve perfect signs & banners. If you're not 100% satisfied, let us know within 24 hours and we'll make it right.
Free Shipping
Enjoy FREE shipping on all orders over $75! Expedited shipping options are also available if you need to rush.
Easy Online Design Tool
Choose from thousands of free design templates or customize a design easily on our website to create the perfect sign you need.
Find Out Why Our Customers Choose eSigns for Their Yard Sign Needs
Don't see what you're looking for?
Try one of the categories below: