Vinyl Banners & Custom Banners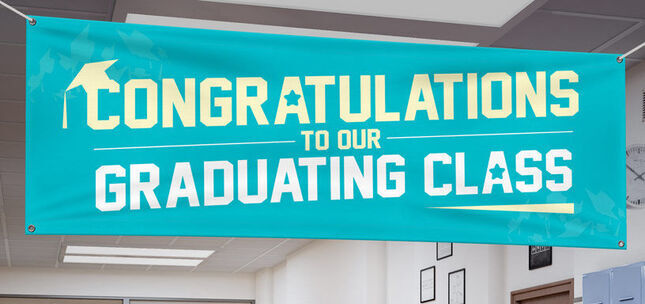 Printing Vinyl Banners Is Our Specialty
Our custom vinyl banners are perfect for making that spectacular visual impact. Whether destined for the great outdoors, on the streets on lamp posts, or loud and proud indoors, our vinyl banners are guaranteed to make a long-lasting impression. We provide various types of vinyl in different print finishes, and we include heat welded hems and nickel grommets at no extra charge.
eSigns offers the largest variety of vertical and horizontal sizing options to ensure you have the flexibility to size your banners for hanging in any space. All of our custom vinyl banners are weatherproof and waterproof. Our prints stay resistant to fading and varying weather conditions to ensure your banner lasts as long as you need it to capture the attention you are looking for.
---
Vinyl Banners Material and Printing Specifications
| | | | | | | | | |
| --- | --- | --- | --- | --- | --- | --- | --- | --- |
| | Mesh Pole Pocket Banners | Table Front Banners | Bamboo Stand Banners | 2 Sided Stand Banners | Grasshopper Stand Banners | X-Frame Stand Banners | Retractable Stand Banners | Zephyr Stand Banners |
| Substrate | 8 oz. mesh vinyl | 13 oz. smooth vinyl | 13 oz. no-curl vinyl | 13 oz. no-curl vinyl | 13 oz. no-curl vinyl | 13 oz. no-curl vinyl | 13 oz. no-curl vinyl | 13 oz. no-curl vinyl |
| Material finish | Matte | Matte | Smooth | Smooth | Smooth | Smooth | Smooth | Smooth |
| Print options | 1 sided | 1 sided | 1 sided | 2 sided | 1 sided | 1 sided | 1 sided | 1 or 2 sided |
| Reinforcement | 3" pole pockets | None needed | None needed | None needed | None needed | None needed | None needed | None needed |
| Preferred use | Outdoor | Indoor | Indoor | Indoor / Outdoor | Indoor | Indoor | Indoor | Indoor / Outdoor |
| Sizes offered | 2' x 2' - 9' x 50' | 28" x 48" - 28" x 96" | 69" x 27.5" - 72" x 24" | 80" x 24" - 90" x 33.5" | 72" x 24" - 96" x 48" | 60" x 24" - 96" x 48" | 60" x 24" - 96" x 48" | 60" x 24" - 96" x 48" |
What are Vinyl Banners?
A vinyl banner is one of the most popular, effective, and affordable form of outdoor advertising available. Because of its durability and ability to withstand the elements, it is used almost everywhere – from retail stores, churches, trade shows, even in your own backyard. Most vinyl banners are digitally printed using a large format inkjet printer, which gives you the flexibility of producing banners of various shapes, sizes, and quantities.
---
Vinyl Signs & Banners Applications
Vinyl banners are one of the most versatile display solutions available. They are used in every industry and any occasion. Here are some of the most popular ways that you can use a vinyl sign:
Business signage
Grand openings
Political events or rallies
Sales or seasonal promotions
Special events
Trade shows
Festivals
Sporting events
School events
Parades
---
Order A Banner In 3 Easy Steps!
Decide on the type of vinyl you want.
Choose the size you need for the space you have in mind.
Upload your custom artwork or choose from 1000's of banner templates that can be easily personalized using our customization tools.
---
Frequently Asked Questions
Will my vinyl banners last a long time?
eSigns uses only high-quality vinyl for all our banners. Our non-porous outdoor vinyl banners are printed on 13 oz. vinyl material. This is the perfect choice for added durability and flexibility needed for outdoor use. Our window banners are printed on 12 oz. super smooth block-out vinyl in a matte finish and are perfect for double-sided printing and the draping effect needed for window displays. For our table banners, we use 12 oz. smooth block-out vinyl that's guaranteed not to curl, ensuring you a professional display on any table front space. Our outdoor mesh banners are made with 8 oz. mesh vinyl, a porous material that allows air to circulate and pass through and effectively keeps your banner intact and in place amid heavy wind conditions. These lightweight banners are perfect for building displays and will not block out the sun. eSigns uses different materials that are best suited for the type of banner you may need, ensuring a product that best fits the intended application you have in mind.
Is ordering in bulk cheaper?
Yes, please see our quantity discounts next to the product pricing.
Will my vinyl banners fade in sunlight?
eSigns uses ultraviolet (UV) cured ink which can minimize the fading of text, art, and images printed on your vinyl banners with regular use. Continuous, long-term exposure to excessive sunlight in outdoor conditions may result in some eventual loss of color and clarity.
Does eSigns provide easy-to-use tools to create my banners from scratch?
Yes, we do! Our state-of-the-art design system provides you with all the tools you will need. You can add artwork from our library of clip art and images, upload graphics and photos from your computer to our system, change color schemes to the choice of colors you prefer, add any custom messages to your banners, and change font styles to fit the type of sign you need.
When should I use a double-sided banner?
Double-sided vinyl banners are important when both sides of your banner are exposed to your audience. For example, if you are planning on draping your banner from a ceiling, hanging it on a window, or using one of our stands for display, double-sided banners can engage your audience from either side regardless of the viewpoint.
Can double sided banners have a different print on each side?
eSigns is capable of printing separate images on each side of the double-sided banners, giving you two messages to entice readers depending on which side of the banner they are reading from. These are great for store-front window banners. Attract the attention of passersby with an offer that best suits readers not in your store, while enticing people inside your establishment with a different promotion.
Got more questions you want answered? Don't fret. We've collated all the questions you can possibly imagine about vinyl banners. Visit our Q & A page for more insights about the wonderful world of vinyl banner printing. Still have a query that's unanswered? Contact us.
Our Commitment
Free Shipping

Free Super Saver Shipping to contiguous US States available
Air & 3 Day Services Available.

Fast Turnaround

up to 199 Banners - 24 Hours (Same Day Shipping)
200 Plus - 2 Business Days
Details at Estimator

Printing

Printed using UV inks, CMYK inkset up to 1000dpi on a variety of banner vinyl for both outdoor and indoor use.

Guarantee

If you are not thrilled with your purchase, please let us know within 24 hours and we'll make it right. No matter if we goofed in the process, or you goofed in your design, it's covered by the Baron's Goof Proof Guarantee.

Quality Made

Banners feature heat welded hems on all four sides to promote durability and include nickel grommets in all four corners and, depending on the size, every 19" - 36" for easy hanging.
Don't see what you're looking for?
Try one of the categories below: